About Us
Maas Trading, a wholesale supplier and more
Maas Trading is wholesale supplier whose home is the world. We both collect and distribute goods, and our operating activities encompass a variety of sectors. Sectors in which we have acquired the reputation of a service provider that combines efficiency with flexibility. And reliability with integrity.


1001 articles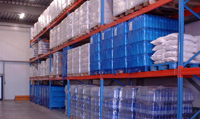 Maas Trading is a company that knows no bounds, both literally and figuratively. We can help you get hold of 1001 articles via a network of 1002 suppliers. We have contacts all over the world, many of which we have built up over years. We therefore have no hesitation in speaking of reliable partners. This increases our effectiveness. And gives you the best possible guarantees.
Building relationships
We always do our best to satisfy your requirements and wishes, but we like to go further. In our eyes, you are not just a buyer, but a partner with whom we are eager to build a relationship. We do this by contributing ideas. By advising you about purchase quantities, transport options and logistic benefits. We also have the resources in house to tailor our service to your business.
Complete fulfilment
We are a supplier who also likes to shoulder the burden in other areas of activity. As a result, you can safely entrust us with the complete fulfilment of your order. Working with Maas Trading also means: working with a reliable partner. No matter the quality or quantity, you can rely on Maas Trading. A deadline is a deadline. A deal is a deal. Full stop.
Strategic location
Based in Hoogvliet, in the Port of Rotterdam, we are strategically located both nationally and internationally. We want to be of service to you too. Like to get acquainted with Maas Trading? Then please get in touch with us, no strings attached!